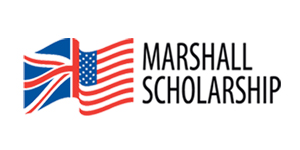 The Marshall Scholarship was established by the British government in 1953 as an expression of gratitude to the United States for economic aid under the Marshall Plan after World War II. It is awarded annually to up to 50 U.S. citizens for study at any university in the United Kingdom. The selectors look for candidates of high ability and wide interests who plan to take up careers in higher education, commerce, industry, the arts and professions, and public life. Students may apply for either 1-year or 2-year Marshall Scholarships.
All applicants must meet the following eligibility requirements:
U.S. citizen at the time of application 
Have completed undergraduate degree by April 
Have obtained an overall undergraduate GPA of 3.7 or higher

Not

have studied for, or hold a degree or degree-equivalent qualification from a British University. Participation in a study abroad program does not preclude students from applying.
View a complete list of rules for 1-year and 2-year Marshall Scholarship applicants.
Selection Criteria
Successful candidates have the potential to excel as scholars, as leaders, and as contributors to improved UK-US understanding.
Assessment is based on academic merit, leadership potential, and ambassadorial potential. For more information about these criteria, please see the Marshall Website.
Demonstration of adequate preparation for the proposed course of study, particularly in upper-level course work and real strength in the major field.
A cogent argument as to why their studies and proposed career would be best served by spending one or two years at a British university.
Preference is given to candidates who combine high academic ability with the capacity to play an active part in the life of the UK university to which they go, and to those who display a potential to make a significant contribution to their own society.
Application Process
Visit the Marshall Scholarship website to review criteria and eligibility requirements. Begin online application (can be saved and completed in multiple sittings).
Email cua-fellowships@cua.edu once you have looked over the Marshall Scholarship website. 
Complete and submit entire application for university endorsement in July.
Receive endorsement from faculty through the on-campus interview process. 
Re-submit final application in October to Marshall.
What to Expect
Applicants should expect to work with the Fellowships Adviser to revise their Personal Statement and Marshall essays several times. 
After submitting their application online by the campus deadline, each applicant will have a campus interview. 
Following this interview, an endorsement letter from the campus committee will be submitted with the completed application to Marshall.
All application materials will then be reviewed by Regional Review Committees. 
Semi-finalists will interview with the Marshall Commission in early November, and receive final status shortly thereafter.