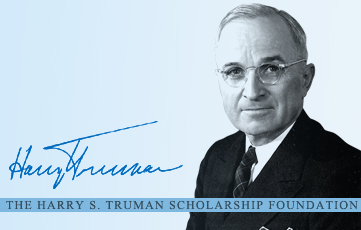 The Truman foundation supports graduate study for college juniors with exceptional leadership potential who are committed to "making a difference" through public service in government, education, the nonprofit or advocacy sectors, or elsewhere in public service. The scholarship provides $30,000 for graduate study leading to a career in public service, and offers students assistance in applying to graduate school, in addition to networking and internship opportunities. As a condition of receiving Truman funds, scholars are required to work in public service for three of the seven years following completion of their degree program. Approximately 55-65 scholarships are awarded each year.
Selection for Truman Scholarships is highly competitive and the university can only endorse up to four candidates a year. As a result, a prescreening process is required of all potential applicants.
All applicants must meet the following eligibility requirements:
Be a full-time junior-level student at a four-year institution pursuing a bachelor's degree during the current academic year.
Be nominated by the Truman Scholarship Faculty Representative at his or her institution.
Be in the upper quarter of his or her class (GPA 3.7 or higher).
Plan to pursue a Master's, J.D., Ph.D., or professional degree in a public service field.
U.S. citizen or a U.S. national from American Samoa or the Commonwealth of the Northern Mariana Islands. 
Selection Criteria
Successful applicants have documented evidence of superb achievement in:
Public Service
Leadership
Academics
Application Process
Visit the Truman Scholarship website to review criteria and eligibility requirements. Contact the Fellowships Adviser at CUA to begin the application process.
Email cua-fellowships@cua.edu once you have looked over the Truman Scholarship website. 
Complete entire application for endorsement by 15 January.
Receive endorsement from faculty through the on-campus interview process. 
Submit the application to Truman by the application deadline, 4 February.
What to Expect
Applicants should expect to work with the Fellowships Adviser to revise their application components several times. Please reach out to the Fellowships Advising office well before the end of Fall semester classes. Please remember that the adviser is the only person who can authorize you to complete the online application.
After submitting their application online by the campus deadline, each applicant will have a campus interview. This interview will enable the university to select four applicants to endorse.
Following this interview, if the applicant is chosen to proceed to the next level, an endorsement letter from the campus committee will be uploaded by the Fellowships Adviser and the student will then submit the completed application to the Truman Regional Review Panel.