The Writing Center is staffed by graduate instructors and undergraduate peer tutors. Our graduate instructors have received highly competitive fellowships and assistantship awards that fund their work in the Center. Our undergraduate peer tutors have been nominated by Catholic University professors and then selected after a rigorous review and interview process. All Writing Center staff undergo extensive and ongoing training.
Writing Center Instructors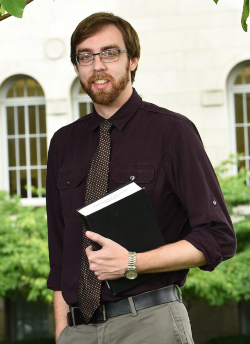 Michael Evans
Michael Evans is a doctoral student in the English program studying how 19th century writers understood and portrayed human impacts on American ecosystems. He is originally from Missouri, where as an undergraduate he studied English and philosophy and earned his B.A. from Northwest Missouri State University. He currently serves as the Graduate Assistant Director of the Writing Center and has, in the past several years, taught English 101 and been a teaching assistant in American literature survey courses. In addition to the work he does at CUA, he also is a tutor for students with executive functioning challenges and serves on the board of a local environmental organization. Aside from those mentioned above, his interests are in history, visual art, ecology, and narratology.
Writing Instruction Specialties: Dissertations, Environmental Studies, and APA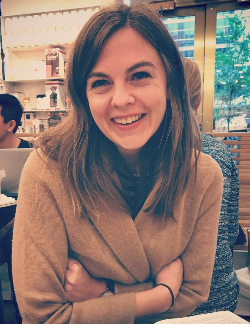 Jane Forsyth
Jane Forsyth is a doctoral candidate in English literature working on 20th century American poetry. She is originally from California where she got her BA in Liberal Arts at Thomas Aquinas College before teaching high school literature and composition for four years. Jane has taught English 101 here at Catholic University and has been a teaching assistant for literature survey courses.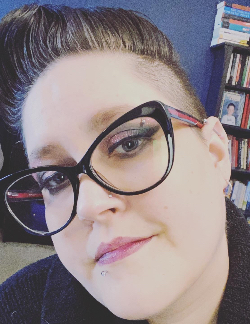 Kristin Lord
Kristin Lord is a second year Teaching Fellow in the English Literature program studying modern and contemporary women's literature and the impact of intersectionality on writing. She is originally from Michigan but has lived all over the country. She has an MFA from Seton Hill University and an MLIS from the University of North Carolina Greensboro. In addition to her work at CUA, she is a freelance editor and published author.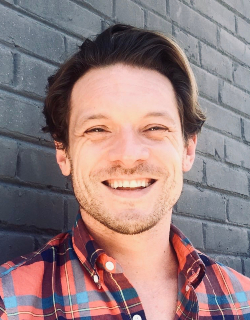 Joseph Bannister 
Joseph is a first-year Master's student pursuing a degree in English literature. While earning his BA in English at the University of Maryland, Baltimore County, he also studied mathematics and discovered a love for the language of calculus. A desire to see equal access to higher education led him to mentor students receiving services from CollegeTracks, a nonprofit whose mission is to assist low-income high school students navigate the complex college application process. His research interests include Victorian literature, Irish history, and diaspora studies.
Writing Instruction Specialties: Personal statements/fellowship apps, Chicago Style, Integrating Research, and Grammar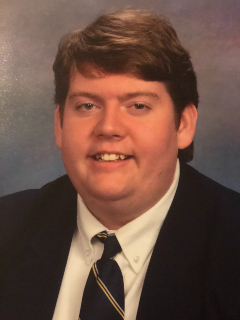 Evan Hulick  
Evan Hulick is a graduate Teaching Fellow in the third year of his PhD in the Department of English at the Catholic University of America. His research interests include twentieth-century American fiction, poetry, and transatlantic modernism as well as the Inklings. He received his M.A. in English at the State University of New York (SUNY) New Paltz as well as a B.A. in Political Science (Theory) at the same institution. He served as a Teaching Assistant during his M.A. and taught two years of English Composition (I and II). He received C.R.L.A. certification from his experiences as a Tutor for three years at the SUNY New Paltz Tutoring and Writing Center. He is currently serving as our Asynchronous Writing Center Online Coordinator.
Writing Instruction Specialties: English, Creative Writing, Philosophy, Politics, Citation Formats (APA, MLA, Chicago), and Social Work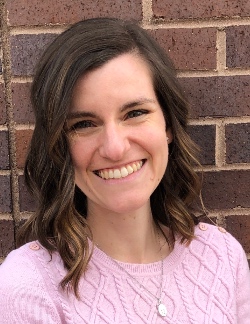 Sarah Zentner
Sarah Zentner is a PhD student in the English department with an interest in the transatlantic novel of manners, from Jane Austen to Edith Wharton. A recent transplant to the East Coast, Sarah earned her BA in English from the University of San Diego and her MA in English from Colorado State University. Since arriving at Catholic, she has taught English 101 and assisted on an undergraduate American literature survey. She is a self-described "hygge enthusiast" who believes, as C.S. Lewis did, "You can never get a cup of tea large enough or a book long enough to suit me."
Writing Instruction Specialties: MLA/Chicago, Personal Statements & Cover Letters, and Humanities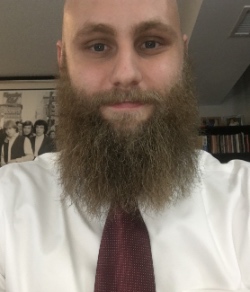 Matt Steinhafel
John "Matt" Steinhafel was born and raised in Milwaukee, Wisconsin. He earned a Bachelor of Business Administration from the University of Wisconsin-Milwaukee and a Master of Fine Arts in Creative Writing from Western Kentucky University. He is currently a doctoral student and teaching fellow in the English Language and Literature program at CUA. His creative work has appeared in In Parentheses, Every Day Fiction, and Plainsongs. His research interests include 20th Century American Literature, The Postmodern American Novel, The History of Blues, Rock, and Jazz, and Rhetoric and Composition. 
Writing Instruction Specialties: Grammar, Literary Analysis, ENG 101, Personal Statements & Cover Letters, and Creative Writing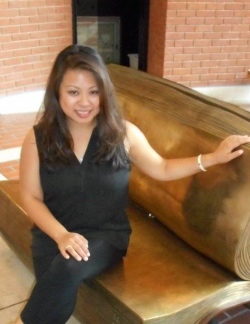 Michelle Datiles 
Michelle Datiles is a History Ph.D. student focusing on religion, law, and society in late medieval/early modern England, writing her dissertation on Catholics and the English Reformation. She has taught in the History Department (incl. HIST 322A, The Tudors and the English Reformation) and for several years in the Intensive English Program. Michelle is also a graduate scholar in CUA's Institute for Human Ecology (link here). Writing Instruction Specialties: history, philosophy, law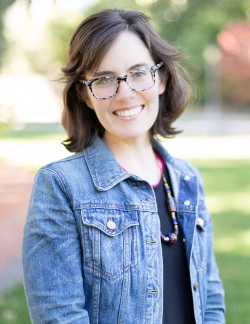 Meghan Duke 
Meghan is Ph.D. candidate in the School of Theology and Religious Studies. She is writing a dissertation on Albert the Great's theology of beatific vision. She earned her B.A. in liberal arts from Thomas Aquinas College and an M.T.S. from the University of Notre Dame. Between degrees, Meghan has worked as an editor and speech writer. Writing instruction specialties: Theology, philosophy, MLA/Chicago style.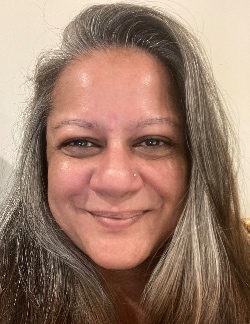 Sumeeya Chishty Mujahid 
Sumeeya is a first-year doctoral student at the National Catholic School of Social Service. She has a bachelor's degree in Sociology and Women's Studies from Hampshire College Amherst, MA, a master's degree in Education from Harvard University's Graduate School of Education, Cambridge, MA, and an Education Specialist degree in Community Counseling from The George Washington University, in Washington, DC. Sumeeya greatly enjoys teaching and has taught at a private middle and high school in Karachi, Pakistan, as well as undergraduate and graduate students at Hampshire college and Harvard University. She has taught a wide range of subjects--English Language, English Literature, History, Sociology, Education, African and African American studies, and Women's Studies. Sumeeya's current doctoral research focuses on women of color and the emotional impact of institutional/systemic racism, and she uses the theories of intersectionality and feminism as her conceptual lens. Sumeeya loves reading (especially humor and feminist writers) and traveling (while eating all the delicious food the world has to offer along the way). She has visited over twenty-five countries, lived in two continents (Asia and North America), and visited all the rest except Antarctica--as she is not very fond of the cold. Sumeeya is excited to work at the Writing Center this year!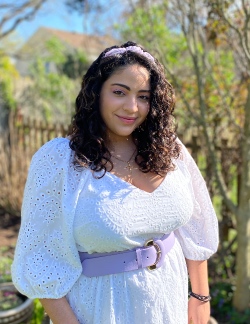 Sophia Giudici
Originally from New Jersey, Sophia Giudici is a first-year Master's student in the English department. She received her B.A. in English Language in Literature from Fordham University and her Masters in Teaching (English K-12) from Montclair State University. Through her experience as a middle school English teacher, she enjoyed facilitating student-led editing and growth in the writing process. While her primary interest is Shakespeare, she is also intrigued by formal verse and epic poetry in every period of literature.
Undergraduate Peer Tutors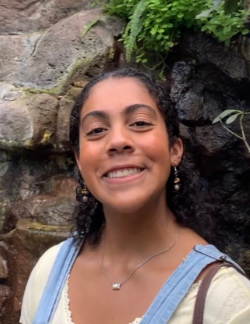 Trinity Ruiz  
Trinity Ruiz is a sophomore English and Philosophy Pre-Law major. In literature, she particularly loves the transcendental movement, i.e. Emerson, Alcott, and Thoreau; in philosophy, she enjoys Boethius' Consolation and Aristotle's Ethics. Trinity is the treasurer of the Philosophy Club and a Cardinal Service Corps leader. Post-grad, she either hopes to go to law school to specialize in disability law or enter the field of journalism for policy and crises journalism.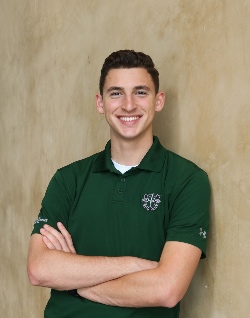 Caden O'Neal  
Caden O'Neal is a senior, pursuing two degrees in B.A. Philosophy Pre/Law and B.A. Politics (Concentration in U.S. Government). He grew up in a military family, attending nine schools across five states. Outside the Writing Center, he actively engages with the Institute of Human Ecology, the Office of Student Activities, and Campus Ministry. His research interests include national security, intelligence, law, ethics, peacebuilding, public policy, and global affairs. Writing Instruction Specialties: MLA/Chicago/APA, Philosophy, Politics, Verbal/Oral Presentations, Close-Reading, Rhetorical Analysis, and Argumentative Papers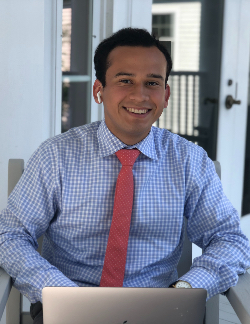 Javier Mazariegos
Javier Mazariegos is a senior English and Philosophy double major, Theology minor, from Maryland. His interests in philosophy include Plato's dialogues and ethics; in English, Shakespeare and Christian literature. Javi is the president of the Philosophy Club, a resident assistant for freshmen in Ryan Hall, and the editor-in-chief of Inventio, the undergraduate research journal at Catholic University. Javi enjoys playing soccer and working out, but not as much as reading anything by Joseph Ratzinger. After college, he hopes to teach. 
Writing Instruction Specialties: Theology, Philosophy, English, Close-Reading, Argumentative Papers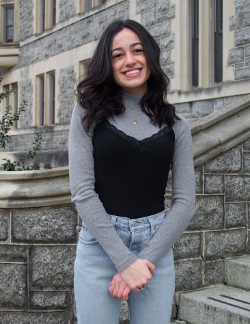 Nicole Cicippio
Nicole Cicippio is a junior English major and Criminology minor from Collegeville, Pennsylvania. Besides being a Writing Center tutor, Nicole is Managing Editor of Inventio, Creative Non-Fiction Editor for Vermillion, and Marketing Manager for the History Club. Outside of the classroom Nicole enjoys spending time with family and friends, creative writing, and oat milk in her coffee. 
Tutoring Specialties: English, Sociology, Creative Writing, and Grammar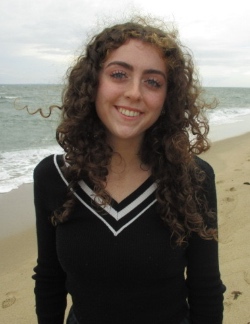 Emma Jones
Emma Jones is a junior Psychology major and Anthropology minor from Cape Cod, Massachusetts. She is proud to be the Vice President of the Active Minds Club on campus in addition to working at the Writing Center. In her free time, Emma enjoys exploring DC, practicing yoga, and having movie nights with friends.
Tutoring Specialties: Psychology, APA, Chicago, and Anthropology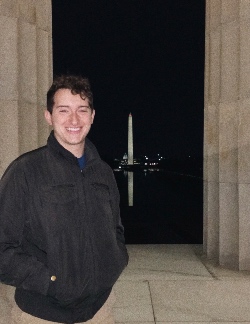 Christopher Vitale
Christopher Vitale is a junior pursuing a double major in English and Studio Art with a Painting concentration. Outside of the Writing Center, Christopher works as a receptionist at the Basilica of the National Shrine of the Immaculate Conception and also volunteers as a Shrine tour guide. In recent years, he has discovered a passion for painting murals and has had the opportunity to produce multiple outdoor murals in his hometown of Stuart, Florida. He hopes to continue painting in and for his community throughout college and after graduation.
Tutoring Specialties: English, Fine Arts/Art History, and Grammar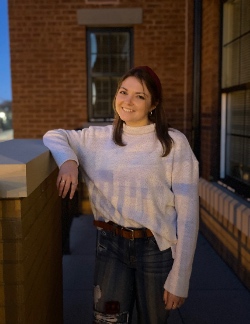 Bridget Guinee
Bridget is a junior English major with a marketing minor from Pittsburgh, Pennsylvania.  In addition to tutoring in the Writing Center, Bridget is a Cardinal Ambassador, Orientation Advisor, and a proud member of the women's ultimate frisbee team.  She enjoys thrifting, trying different tea blends, and saying hello to as many people as possible around campus.  After graduation, Bridget hopes to bring her written and spoken communication skills into marketing.
Tutoring Specialties: Public Speaking/Presentations, Business, English, and Close Reading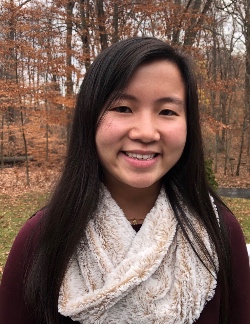 Mary Schwartz
Mary Schwartz is a junior philosophy major from Connecticut. She is particularly interested in the place of philosophy in literature, as well as in the intersection of philosophy and theology. In her free time she enjoys creative writing, playing the clarinet, and feeding her sugar addiction. After college, she hopes to do something that involves both writing and philosophy.
Tutoring Specialties: Philosophy, English, and Close Reading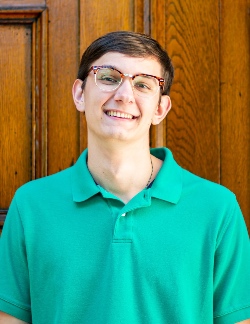 Matthew Sawtelle
Matthew Sawtelle is a junior philosophy major from Dallas, Texas. His interests include reading formal poetry and listening to Chopin. When not working at the Writing Center or spending time with friends, Matthew serves as the Co-Editor-in-Chief of Vermilion, CUA's official online literary magazine. He is not sure what he wants to do after college, but he hopes it will involve literature and the arts.